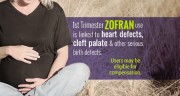 Families with Children Born Before 2006 May Still Be Entitled to Compensation for Zofran Birth Defects
San Diego, CA, September 27, 2015 (Newswire.com) - Anti-nausea drug Zofran has been on the market since 1991, and while new cases of babies born with Zofran-related injuries are still being reported to the FDA, the Zofran lawyers at Ford and Associates Nationwide Legal Services want families with children born before 2006 that suffered birth defects to know that statute of limitations for Zofran birth defect lawsuits is very unclear and may not exist, and that affected families and children may still qualify for compensation for injuries and medical bills. If your child suffered from a birth defect that you believe to be related to the use of Zofran in pregnancy, consult a Ford Law Nationwide Legal Services attorney as soon as possible to discuss filing a birth defect claim against GlaxoSmithKline, to seek fair reimbursement for your and your child's injuries, suffering and medical expenses.
What is the "Statute of Limitations" and how is it applied to Zofran cases?
The term "statute of limitation" in regards to side effects allegedly caused by a pharmaceutical drug describes the period of time during which a lawsuit can be filed against the drug manufacturing company for damages related to the injury. In most states, the statute of limitation ranges from between one and three years, and begins from the date the injured individual discovered or reasonably should have discovered the injury and its cause. There are exceptions to this rule, however, particularly in cases involving birth defects, which is why there is no clear statute of limitation for Zofran birth defect cases.
The majority of families of children affected by Zofran birth defects had no idea there was a connection between Zofran use in pregnancy and congenital malformations, like cleft lip, cleft palate and heart defects, and much of the research linking Zofran to serious pregnancy risks has only just been made public in recent years. There are additional factors that may have an impact on the statute of limitation for Zofran birth defect claims to be filed, including the age of the affected individual and whether or not the drug company in question engaged in fraudulent activity intended to prevent the individual from discovering his injury.
Lawsuits Filed Over Zofran Birth Defects
A number of studies published in recent years have examined the potential for Zofran to cause serious birth defects, and recent reports have suggested that GlaxoSmithKline knew or should have known as early as 1992, that Zofran was capable of passing through the human placenta during pregnancy and causing harm to unborn babies. However, the drug maker continued to market Zofran as a safe and effective treatment for morning sickness in pregnant women, despite the fact that the prescription anti-nausea drug was never approved for this use. As a result, more than one million pregnant women are prescribed Zofran or its generic equivalent, ondansetron, every year, despite the potential for Zofran use in pregnancy to cause devastating birth defects, like heart malformations, oral clefts, kidney defects, fetal growth restriction and musculoskeletal abnormalities.
You May Be Entitled to Compensation for Zofran Birth Defects
Families with older children born with birth defects after being exposed to Zofran in utero may be entitled to financial compensation for their child's injuries, pain and suffering, past and future medical bills, and other related damages. If you took Zofran while pregnant, and your child has suffered from one or more birth defects that required extensive medical care, caused him physical or emotional pain, resulted in lasting injury, or diminished his overall quality of life, contact an experienced Zofran attorney today to discuss your options for legal recourse. You may have grounds to file a Zofran birth defect lawsuit against GlaxoSmithKline, in order to pursue the financial compensation your child deserves.
Get more information on Zofran Birth Defects Lawsuits at http://zofranlawsuit.help/
Share: