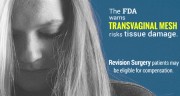 Transvaginal mesh has been plagued by reports of devastating injuries among women who received the implants to treat pelvic organ prolapse or stress urinary incontinence, and to date, close to 80,000 lawsuits have been consolidated in six multidistrict litigations against mesh manufacturers like C.R. Bard, Coloplast, Ethicon, Boston Scientific and American Medical Systems.
San Diego, CA, December 21, 2015 (Newswire.com) - All of the complaints involve similar allegations that the transvaginal mesh devices were defectively designed and caused serious side effects in users, and several vaginal mesh lawsuits have resulted in settlements or awards for the plaintiffs. If you received a transvaginal mesh implant in the past, and you have since suffered mesh infection, mesh erosion, or another major side effect, consult a skilled product liability lawyer today for legal help.
Transvaginal Mesh Verdicts and Settlements
In November 2015, the first transvaginal mesh lawsuit to go to trial over injuries from C.R. Bard's Bard Avaulta mesh resulted in a $3.6 million verdict in favor of the plaintiff, for serious injuries like urination blockage and mesh erosion, which required eight revision surgeries to resolve. This was a landmark verdict for the ongoing transvaginal mesh litigation, and the evidence presented against Bard during the trial may set the stage for the more than 21,000 product liability lawsuits C.R. Bard still faces. Nearly 13,000 of these transvaginal mesh lawsuits have been consolidated in a federal court in Charleston, West Virginia, for coordinated pretrial proceedings as part of a multidistrict litigation (MDL).
Another recent surgical mesh lawsuit, brought against Boston Scientific over injuries from its Pinnacle and Advantage Fit devices, resulted in a $10 million award for the plaintiff, including $2.5 million in compensatory damages and $7.5 million in punitive damages designed to punish the mesh manufacturer for its deceptive actions and defective device. In the meantime, a transvaginal mesh trial involving Johnson & Johnson's Ethicon unit is underway in a West Virginia federal court. The trial combines 37 complaints of the more than 23,000 product liability lawsuits pending against Ethicon for injuries allegedly caused by the medical device maker's controversial Gynecare transvaginal mesh implant.
Of all the transvaginal mesh manufacturers, Johnson & Johnson's Ethicon unit has been the slowest to offer settlements, despite the fact that the company faces the highest number of federal lawsuits. J&J won the first surgical mesh bellwether trial just last year, and continues to contest liability for transvaginal mesh injuries suffered by patients, although it did agree to settle four claims for an undisclosed amount in January 2015. Another vaginal mesh maker, Coloplast, recently announced an increase of its transvaginal mesh litigation budget to $448 million, to cover the cost of surgical mesh settlement agreements. Coloplast already settled about 400 complaints last year, and currently faces another 2,000 lawsuits pending in the Southern District of West Virginia in a multidistrict litigation.
A Skilled Transvaginal Mesh Attorney Can Help
In recent years, tens of thousands of transvaginal mesh lawsuits have been filed in state and federal courts across the country, on behalf of women who believe they have been injured by defective vaginal mesh implants, and several cases have already gone to trial, resulting in favorable verdicts for the plaintiffs, while others have been settled. If you believe you have suffered side effects of transvaginal mesh, like mesh erosion, mesh infection or organ perforation, contact an experienced vaginal mesh attorney to discuss your options for legal recourse. With a qualified product liability lawyer on your side, you may be able to pursue financial compensation for your injuries and medical expenses.
Share: