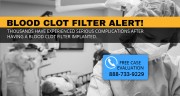 If not removed within 30-45 days, a dangerously high rate of so-called retrievable IVC filters, generally implanted to prevent pulmonary embolisms, experience complications that can lead to additional medical procedures, serious injury and death, and the risk generally outweighs any benefit, according to Ford and Associates Nationwide Legal Services.
San Diego, CA, March 10, 2016 (Newswire.com) - ​Product liability lawsuits over IVC filter migration and other complications such as the devices becoming difficult or impossible to be safely removed continue to mount, and many of the complaints involve problems where the IVC filter migrated out of position and became embedded in internal organs, causing serious medical problems and making it difficult or impossible for the filter to be safely removed, According to Ford and Associates Nationwide Legal Services. If you have a defective IVC filter that has migrated out of position and cannot be removed, contact the knowledgeable product liability lawyers at Ford and Associates today to discuss the possibility of filing an IVC filter lawsuit against the device manufacturing company.
Filters May Become Embedded in Organs
Many so-called retrievable IVC filters that are intended to prevent pulmonary embolism for a finite period actually have little benefit according to many experts and the risks to the patient if left in beyond a period of about 30-45 days can far outweigh the benefit.

Alan Christopher, IVC Filter Litigation Expert
Growing concerns have been raised recently about the safety and effectiveness of retrievable IVC filters, and according to allegations raised in recent product liability lawsuits, defective blood clot filters may become embedded inside patients' internal organs, causing them to require surgery or adjunctive techniques to remove the filter. However, in some cases, doctors may be unable to retrieve the blood clot filter, which means the patient may face a continuing risk of problems from the device, including the potential for life-threatening side effects and the need for ongoing medical care to ensure the filter does not cause further injury.
Possible Side Effects of IVC Filters
IVC (inferior vena cava) filters are small, cage-like medical devices that doctors surgically insert into the inferior vena cava, a large vein that carries deoxygenated blood into the heart, to trap blood clots and prevent them from traveling to the heart or lungs. By doing so, IVC filters can reduce the risk of stroke and pulmonary embolism in patients with a heart condition called atrial fibrillation, which causes poor blood flow and can increase the risk of stroke. Unfortunately, a growing body of research has shown that IVC filters may be prone to failure, occurring when the filters migrate out of position, fracture, perforate the vena cava, or embolize to the heart.
Removing Retrievable Blood Clot Filters
One of the most serious complications of IVC filters occurs when the devices cannot be safely removed. In one new 10-year study published in the medical journal Pediatric Radiology in January 2016, researchers from the Children's Hospital of Philadelphia found that it may be difficult for doctors to remove IVC filters from children, particularly when the filters tilt out of position or become embedded in internal organs. According to the researchers, a significant percentage of children involved in the study required adjunctive techniques to retrieve the IVC filters, often because the device had migrated out of its original position in the inferior vena cava. Adults, too, may face the risk of their blood clot filters being difficult or impossible to remove.
IVC Filter Warnings from the FDA
Although IVC filters first entered the market in 1979, it wasn't until 2010, when the FDA issued its first warning about possible side effects of IVC filters, that the litigation over blood clot filter complications began to emerge. According to that FDA safety announcement, the agency had received more than 900 reports of adverse events linked to IVC filters like C.R. Bard's Recovery filter, including 328 reports of filter migration, 146 reports of filter components breaking loose, 70 reports of vena cava perforation, and 56 reports of filter fracture. In 2014, the FDA issued another warning, this time advising doctors to remove retrievable IVC filters within one to two months after they are implanted, as long as the risk of pulmonary embolism has subsided.
Our IVC Filter Injury Lawyers Can Help
In the federal court system, there are currently several hundred lawsuits pending against C.R. Bard and Cook Medical over complications from the Recovery, G2, Celect and Gunther Tulip blood clot filters. If you believe you have been adversely affected by alleged IVC filter side effects, including instances where the filter cannot be removed by doctors, consult our experienced IVC filter injury attorneys today by completing the form at http://ivcfilterlawsuit.info/qualify-form/ or call 888-733-9229 to discuss your possible compensation options. With a reputable product liability attorney on your side, you can protect your legal rights and seek fair and timely reimbursement for your losses.
Share: