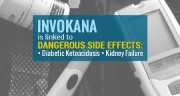 Individuals that have suffered injuries after using these medications may be eligible for compensation, says the Invokana Legal Help Center
San Diego, CA, December 10, 2015 (Newswire.com) - According to the Invokana Legal Help Center, the most serious side effect concerns related to the Type 2 diabetes drug Invokana and other SGLT-2 Inhibitors involve a potential increased risk of diabetic ketoacidosis (DKA), a serious medical condition characterized by too much acid in the blood, but there have also been growing concerns about the potential for Invokana to cause kidney failure side effects in users. For individuals who have been adversely affected by kidney failure side effects of Invokana, it is recommended to consult a knowledgeable Invokana attorney today for legal help. Victims may be entitled to financial compensation for injuries and medical expenses, which can pursued by filing a product liability lawsuit against Invokana maker Johnson & Johnson and its Janssen Pharmaceuticals unit.
Possible Invokana Side Effects
Invokana (canagliflozin) is a prescription drug designed to control blood sugar levels in adults with Type 2 diabetes, which it does by inhibiting a protein called sodium-glucose cotransporter-2 (SGLT2), thereby preventing the kidneys from reabsorbing glucose and causing them to excrete more glucose in the urine. However, there have been dozens of reports of potentially life-threatening complications occurring in patients taking Invokana and similar SGLT2 inhibitors, and researchers have advised healthcare professionals to exercise caution when prescribing the diabetes medication, due to the risk that Invokana may increase a patient's chances of suffering diabetic ketoacidosis or kidney failure complications.
Risk of Kidney Failure from Invokana
Because Invokana is designed to act on the kidneys to lower glucose levels, the medication poses serious risks for patients who have pre-existing kidney problems. Even diabetes itself can cause damage to the kidneys over time, and patients with late-stage diabetes who take a drug like Invokana may significantly increase their chances of suffering kidney failure. In its QuarterWatch report released in May 2015, the Institute for Safe Medication Practices (ISMP) indicated that Invokana was named in more than 457 adverse event reports submitted during the first year the drug was on the market, including 54 reports of kidney damage or kidney failure. This report came on the heels of a drug safety communication from the FDA warning about the alleged risk of diabetic ketoacidosis side effects from Invokana.
FDA Revises Invokana Warning Label
In another FDA safety announcement issued in December 2015, the FDA added new warnings to the labels of SGLT2 inhibitors like Invokana, indicating that the diabetes drugs may increase the risk of complications like ketoacidosis and serious urinary tract infections, both of which can result in hospitalization. According to the December 2015 safety announcement, the FDA had also identified 19 cases of "life-threatening blood infections (urosepsis) and kidney infections (pyelonephritis) that started as urinary tract infections with the SGLT2 inhibitors reported […] from March 2013 to October 2014. All 19 patients were hospitalized, and a few required admission to an intensive care unit or dialysis in order to treat kidney failure."
An Experienced Invokana Lawyer Can Help
In light of these serious risks, the FDA is requiring the makers of Invokana and other SGLT2 inhibitors to conduct post-marketing research to identify reports of spontaneous diabetic ketoacidosis and other side effects in patients treated with the diabetes drugs. If you took an SGLT2 inhibitor like Invokana, and you have since been diagnosed with diabetic ketoacidosis, kidney failure or another serious medical condition, an experienced Invokana attorney can help. With a qualified lawyer on your side who has experience handling Invokana injury claims, you can ensure that your legal rights are protected, and seek fair and timely reimbursement for your injuries, past and future medical costs, and pain and suffering.
Share: