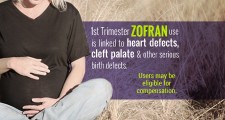 According to Consumer Safety Watch, many families with children that suffered birth defects that include heart defects or cleft lip or palate were under the impression that they would not be able to recover compensation for injuries or medical bills due to statute of limitation laws. In reality, since there has never been an acknowledgment by GlaxoSmithKline of a connection between the use of their anti nausea drug and these defects, statute of limitations laws should not apply
San Diego, CA, April 12, 2016 (Newswire.com) - The anti-nausea medication Zofran has been on the market in the United States since 1991, and while new cases of babies born with Zofran-related injuries are still being reported to the FDA, our Zofran lawyers want the families of older children with birth defects to know that there is no clear statute of limitations for Zofran birth defect lawsuits, and that they may still qualify for compensation. If you have a child who has suffered from a major birth defect, such as a heart defect or cleft defect that required surgery and you believe the injury may be related to the use of Zofran in pregnancy, consult our knowledgeable Zofran legal team today to discuss filing a birth defect claim against GlaxoSmithKline, to seek fair and timely reimbursement for your child's injuries and medical expenses. Cases are being accepted at no up front cost and there are never any fees unless there is a verdict or settlement in your favor.
Qualify for free legal representation if your child was born with a heart or cleft defect after use of Zofran during the first trimester of pregnancy
What Does "Statute of Limitation" Mean?
The term "statute of limitation" in regards to side effects allegedly caused by a pharmaceutical drug describes the period of time during which a lawsuit can be filed against the drug manufacturing company for damages related to the injury. In most states, the statute of limitation ranges from between one and three years, and begins from the date the injured individual discovered or reasonably should have discovered the injury and its cause. There are exceptions to this rule, however, particularly in cases involving birth defects, which is why there is no clear statute of limitation for Zofran birth defect cases.
Most families of children affected by Zofran birth defects had no idea there was a connection between Zofran use in pregnancy and congenital malformations, like cleft lip, cleft palate and heart defects, and much of the research linking Zofran to serious pregnancy risks has only just been made public in recent years. There are additional factors that may have an impact on the statute of limitation for Zofran birth defect claims to be filed, including the age of the affected individual and whether or not the drug company in question engaged in fraudulent activity intended to prevent the individual from discovering his injury.
Lawsuits Filed Over Zofran Birth Defects
A number of studies published in recent years have examined the potential for Zofran to cause serious birth defects, and recent reports have suggested that GlaxoSmithKline knew or should have known as early as 1992, that Zofran was capable of passing through the human placenta during pregnancy and causing harm to unborn babies. However, the drug maker continued to market Zofran as a safe and effective treatment for morning sickness in pregnant women, despite the fact that the prescription anti-nausea drug was never approved for this use. As a result, more than one million pregnant women are prescribed Zofran or its generic equivalent, ondansetron, every year, despite the potential for Zofran use in pregnancy to cause devastating birth defects, like heart malformations, oral clefts, kidney defects, fetal growth restriction and musculoskeletal abnormalities.
Injuries linked to Zofran usage in the first trimester of pregnancy and other congential heart defects
Heart

Defects​

Hole in the heart
Aortic

Stenosis

Atrial

Septal

Defect

Atrioventricular

Canal Defect
Bicuspid Aortic Valve

Coarctation

of the Aorta
Complete Congenital Heart Block
Congenitally Corrected Transposition of the Great Arteries or Great Vessels
Coronary Artery Anomaly
DCRV: Double Chamber Right Ventricle

Dextrocardia

DiGeorge

syndrome
Double Aortic Arch
Double Outlet Right Ventricle

Ebstein's

Anomaly

Eisenmenger's

syndrome

Endocardial

Fibroelastosis

Holt-

Oram

syndrome

Hypertrophic

Cardiomyopathy

Hypoplastic

Left Heart syndrome

Hypoplastic

Right Heart syndrome

Interupted

Aortic Arch
Isolated Non-Compaction of Left Ventricular Myocardium
Kawasaki Disease
Left Ventricular Outflow Tract Obstruction
Long QT syndrome
Major Aorta/Pulmonary Collateral Arteries

Marfan

syndrome

Mitral

Valve Prolapse

Noonan

syndrome
Partially Anomalous Pulmonary Venous Return
Patent

Ductus

Arterious

Pulmonary

Atresia

Pulmonary

Stenosis

Right Ventricular Outflow Tract Obstruction
Single Ventricle

Tetralogy

of

Fallot

Total Anomalous Pulmonary Venous Drainage or Total Anomalous Pulmonary Venous Return
Transposition of the Great Arteries or Vessels

Tricuspid

Atresia

Truncus

Arteriosis

Ventricular

Septal

Defect
Williams syndrome
Cleft Palate
Cleft Lip
You May Be Entitled to Compensation for Zofran Birth Defects
Families with older children born with birth defects after being exposed to Zofran in utero may be entitled to financial compensation for their child's injuries, pain and suffering, past and future medical bills, and other related damages. If you took Zofran while pregnant, and your child has suffered from one or more birth defects that required extensive medical care, caused him physical or emotional pain, resulted in lasting injury, or diminished his overall quality of life, contact an experienced Zofran attorney today to discuss your options for legal recourse. You may have grounds to file a Zofran birth defect lawsuit against GlaxoSmithKline, in order to pursue the financial compensation your child deserves.
Source: Consumer Safety Watch
Share: